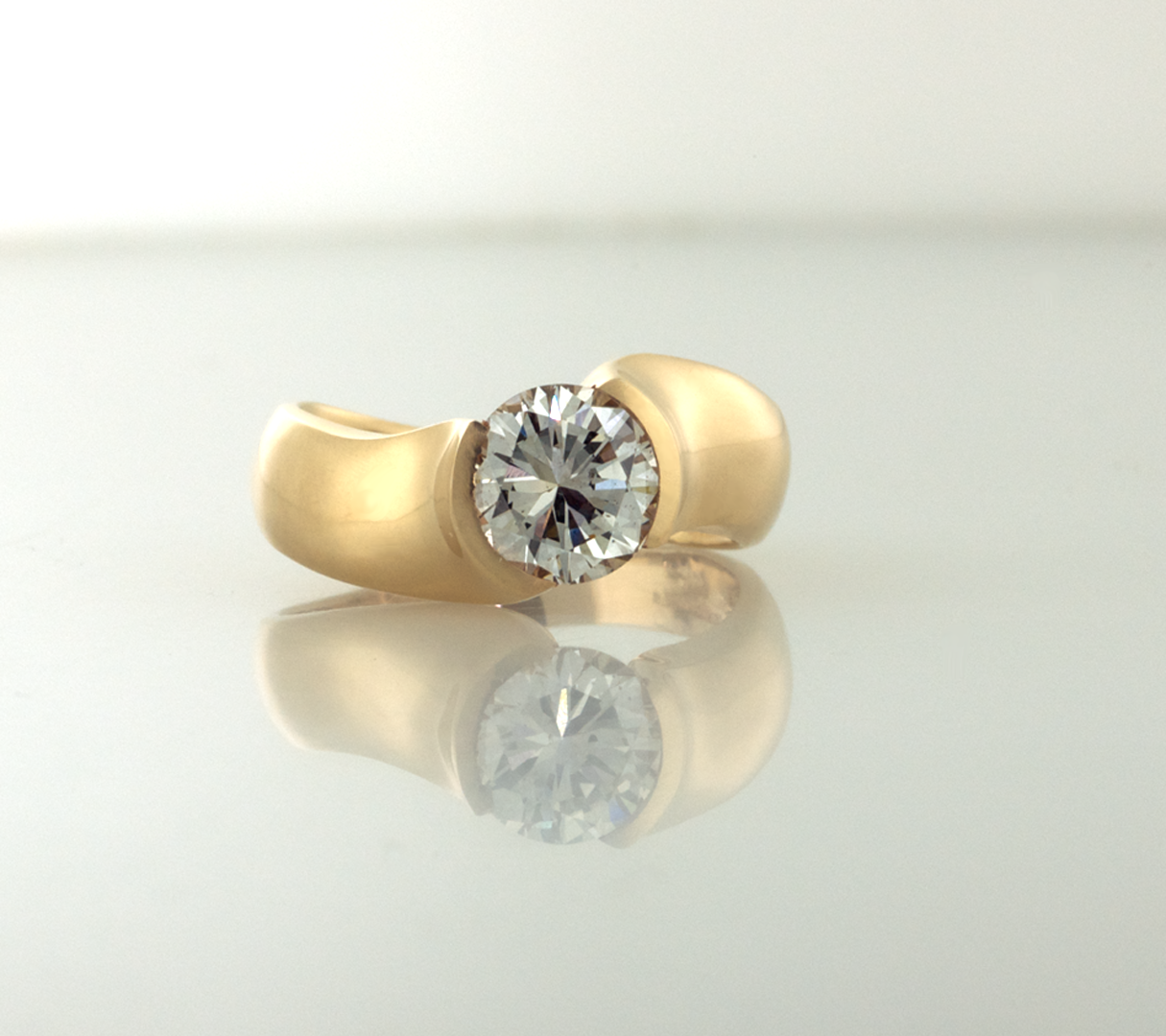 When you are ready to choose your diamond, careful selection of a professional jeweler that you have confidence in is of paramount importance. Choosing a competent professional in our field is as important as selecting a good accountant, attorney, or any other professional with whom you entrust your care. An experienced professional master jeweler won't insult your intelligence and knows you are making a very important purchase. You need to ask yourself some important questions: Who is it that you are working with? Are they a professional or a meagerly trained sales clerk? How hungry are they for your business? Any jeweler can show you beautiful diamonds from his inventory and give you prices or an e-jeweler can even quote you "come on" prices. How is one to know if one is receiving real value? This is the dilemma that is posed in shopping for a diamond.
To achieve the greatest value for dollars spent, ask yourself, is my jeweler willing to disclose not just the 4Cs, but every aspect of a particular diamond? As established manufacturing jewelers and award winning designers, we at Thomas Michaels Designers pride ourselves on our reputation and can show you the differences between various quality of diamonds. We can show and discuss the importance of the many variables of exceptional cutting (i.e. the human element,labor) and how these difference dramatically effect the "look" of the diamond. We will point out to you unusual attributes usually only discussed within the trade between dealers.
Well over 90% of all diamonds you will see or will be quoted are not cut to prescribed standards thus creating an undo profit center for the dealer, e-dealer, or retailer. When we quote and supply diamonds you will receive a diamond whose look is truly exceptional at below retail pricing.
The visual differences between a Flawless and a SI - 1 diamond are nonexistent except under magnification. Consumers generally do not understand that the aesthetics or look of a diamond is created primarily by the quality of the cutting. People often feel that if they purchase a higher clarity or color diamond (spending more money), that they will have obtained a more brilliant, more aesthetically pleasing or more intense diamond.
The fact is 99% of all faceted diamonds in the industry are cut far below prescribed standards; increasing profit because of increased yield and lower labor costs. For example if you saw a remarkably cut G, SI-2 and a typical commercial cut E, Flawless, in a blind test you would choose the remarkably cut G, SI-2; ten out of ten times and this diamond will cost half the money.
If the diamond is not saturated with inappropriate color, is not included, or if inclusions are not visible to the naked eye, the most critical aspect in judging a diamond is the cutting. Most retailers or dealers you'll speak with will discuss clarity and color issues, but will not completely disclose all the critical facts pertaining to the many technical aspects of cutting; usually discussed only within the trade. Supplying inferior "makes" is often a major added profit center for the shrewd dealer.
The visual impact of a fine diamond is primarily determined by the quality of cutting, not color or clarity. A remarkably cut diamond such as those we supply, will be no match to diamonds you will see in typical commercial jewelry stores or on other wearer's fingers. These diamonds are sometimes referred to as "three to four table diamonds"; they are highly visible from across the restaurant in low lighting conditions!
Thomas Michaels Designers, as award winning jewelry designers and manufacturers have supplied many of the world's leading jewelry retailers with our trend setting innovations and have also been recognized by private clients worldwide for delivering a level of design, craftsmanship, and ultimately value, rarely available elsewhere. As a trusted consultant when we broker a diamond for a client we never have a vested interest in any particular diamond versus another, but am firstly committed and obliged to you as a client. 80% of our business comes from referrals resulting from over 34 years of pleased clients where we have thrilled them with the quality of the diamonds supplied; our original award winning design and craftsmanship; all at remarkable savings, well below retail.
For 34 years we have built our reputation on sincerity, honesty and the relationships that are built between us. I highly recommend that we spend a little time on the phone discussing what to look for and the way value can be achieved when shopping for a diamond as well as the many variables that will apply and how you may be assured of receiving a diamond of integrity, value, and true beauty. Upon discussing your needs we will scour the industry to locate the rare quality of cutting we have been known for supplying; in the quality ranges and carat size you request. Remembering less than 1% of all fine diamonds in the industry come close to the exceptional standards that we have described.
When we supply and broker a diamond for a client we save them thousands of dollars and never have a vested interest is a particular diamond allowing me to fairly access and compare for you. We are well known for helping clarify all of the sometimes confusing variables that make choosing a special diamond so difficult. All diamonds are graded by their color, clarity, and quality of cutting; as well as weighed to establish carat weight. This information can be certified by a number of gem grading laboratories across the world. Here in America we have available at our disposal at least three major gem laboratory associations that have laboratory facilities on both the east and west coasts. They furnish to us at our request a complete lab report or "diamond grading certificate". These independent laboratory analyses are widely respected as being the final determiner of diamonds individual characteristics. We are happy to offer independent gem certificates, on request, for any diamonds that we may supply, from such international recognized laboratories such as: The Gemological Institute of America, The International Gemological Laboratory, and The European Gemological Laboratory.
If you have purchased a diamond elsewhere we are happy to grade and verify quality by forwarding your piece for laboratory analysis allowing for complete appraisal for insurance purposes. The charges involved depend on the number, type and sizes of diamonds. There are secure means for shipping diamonds and/or finished precious jewelry assuring insured and dependable service. In the jewelry industry this is done every day to deliver product to retailers; most of the inventory you see in jewelry stores arrives this way. Private clients located anywhere in the country can also be assured of the same level of security in assuring their precious jewelry arrives to its destination securely.
To insure you privacy and discretion, in your process of shopping I urge a phone call to our office where we may discuss your individual needs confidentially.